GeoVax Labs, Inc. (OTCQB:GOVX), a biotechnology company developing human immunotherapies and vaccines has historically been associated with the development of vaccines against infectious diseases. The company is now leveraging the knowledge and expertise it has validated in infectious diseases and expanding the applicability of MVA-VLP into immuno-oncology (IO) with highly promising results.
The company's Modified Vaccinia Ankara (MVA) Virus-Like Particle (VLP) platform technology has been successfully validated in multiple development programs, including HIV, Zika, and Hemorrhagic Fevers such as Ebola, Marburg and Lassa. However, the advancement of these critical programs into clinical development has been challenging. GeoVax is now leveraging the knowledge and expertise it has validated in infectious diseases and expanding the applicability of MVA-VLP into immuno-oncology (IO) with highly promising results.
The safety and efficacy of the MVA platform are well recognized and accepted. Originally developed as a safer vaccine against smallpox in the 1950s, MVA now serves as validated vector delivery foundation technology on which the development of new vaccine candidates are built. MVA vaccines have been tested on over 120,000 people, demonstrating outstanding safety, especially in immunocompromised individuals. Importantly, MVA vaccines have been found immunogenic and protective in various preclinical models and human clinical trials, including in HIV, HBV, MERS, avian influenza virus H5N1, Ebola, Zika, and Mycobacterium tuberculosis (Volz & Sutter, Adv. Virus Res, 2017).
Scientists at GeoVax have been able to capitalize and build on the MVA platform by utilizing recombinant DNA technology to incorporate Virus-Like Particles (VLPs) into the MVA delivery construct. VLPs are non-infectious portions of the pathogenic virus or bacteria. Often they are truncated forms of a surface protein or receptor. They are big enough to elicit an immune response and confer immunity, but have no risk of causing infection or harm; this is in contrast to weakened (attenuated) or killed forms of the virus, like the current influenza virus vaccines. GeoVax has conducted six human trials of the MVA-VLP platform in more than 500 subjects with no serious adverse reactions. The GeoVax MVA-VLP platform and approach has been well documented and validated in the multitude of trials.
MVA has a large carrying capacity capable of delivering genes that encode for multiple particles (proteins), the combination of which is adequate to generate VLP that train the body's immune system to recognize and kill the live virus should an individual be exposed to the natural form. To the body, GeoVax's VLP antigens look like the naturally-occurring infection, displaying a native viral presentation of envelope glycoproteins. This native presentation initiates both cellular and humoral immune response, resulting in a specific and robust immunity that is both rapid-acting and highly durable.

The GeoVax MVA-VLP platform has successfully produced a clinical vaccine candidate against HIV. The company's HIV vaccine program has been funded for years by the National Institute of Allergy and Infectious Diseases (NIAID) with human clinical trials conducted by the HIV Vaccine Trials Network (HVTN). Early-stage data with the company's novel HIV-1 vaccine candidate, GOVX-B11, published in PLoS One in July 2017 (Buchbinder SP et al., 2017), show durable, functional humoral responses that included antibody-dependent cellular cytotoxicity, high antibody avidity, and HIV envelope glycoprotein IgG1 and IgG3 binding indicative of innate and adaptive immune response. A full comprehensive review of GeoVax's HIV program was recently published in Clinical Pharmacology & Therapeutics (Robinson HL, 2018).
With respect to industry efforts to create a preventive vaccine, the profile of GOVX-B11 looks superior to Sanofi's RV144 Phase 3 program. Unfortunately, advancing GOVX-B11 into the next stage of pivotal human trials will likely cost $50+ million, which far exceeds the R&D budget of GeoVax or the HVTN. Large pharma's appetite for a preventive clade-B type HIV vaccine, the strain most predominantly found in the U.S. and Western Europe, is virtually non-existent given available life-long expensive treatment options. The ultimate goal is to develop a "functional cure". With respect to this effort, GeoVax's vaccine has shown encouraging results and management remains in active discussion with public/private consortiums on investigating the vaccine as part of a broader combination therapy.
Over the past several years, GeoVax has demonstrated proof-of-concept with its MVA-VLP platform in other infectious diseases, including Zika, Lassa, Marburg and, Ebola. Results from preclinical studies with the Zika vaccine were published in Scientific Reports (Brault AC et al., 2017) and demonstrate that a single intramuscular immunization of immunocompetent mice with the MVA-ZIKV-NS1 vaccine provided robust humoral and cellular responses, affording 100% protection against a lethal intracerebral dose of ZIKV (strain MR766). Results of preclinical work with the Ebola vaccine were published in Scientific Reports (Domi A et al., 2018) and demonstrate 100% protection against lethal EBOV infection in guinea pigs after prime/boost vaccination with MVA-EBOV. Similar results were observed in preclinical Lassa and Marburg vaccine studies.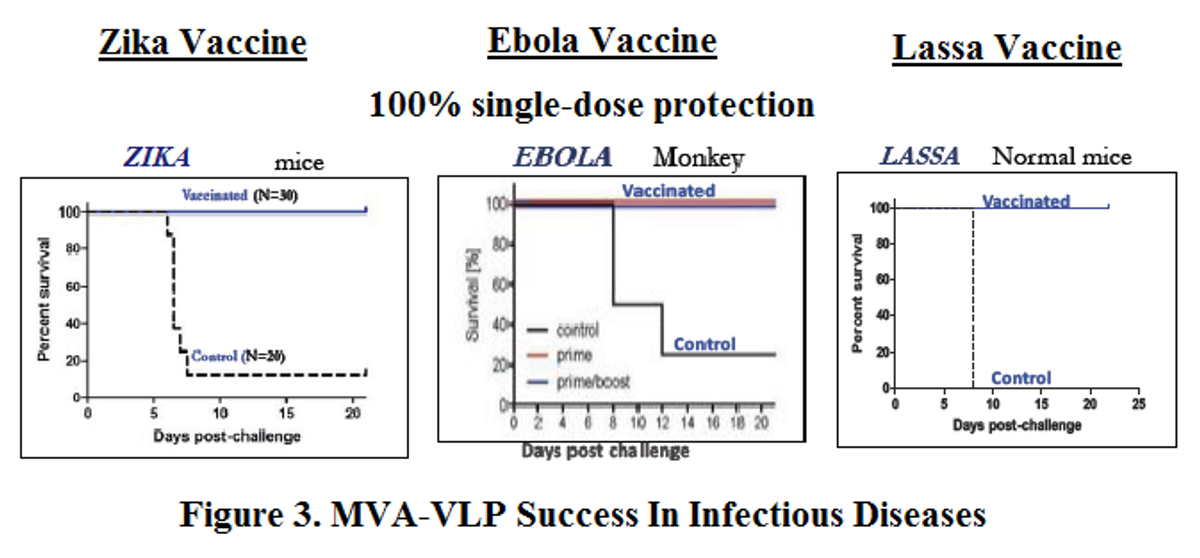 Unfortunately, interest in funding vaccines for emerging infectious diseases is scant. Ebola and Zika might be a hot topic for discussion on cable news networks, but the truth is that only large pharmaceutical companies, like Merck, J&J, and Glaxo, with billions in R&D funding, global footprints, and a keen desire to obtain political goodwill are positioned to bring these candidates to the market. Merck is already delivering Ebola vaccine to Uganda and the Democratic Republic of Congo (DRC) and the J&J Ebola vaccine is expected to become utilized in the DRC in the near future. Despite possibly having a simpler and perhaps superior Ebola vaccine, GeoVax is financially and logistically incapable of displacing these larger competitors. A bright spot for GeoVax, however, is the interest the U.S. Army has taken in funding the company's preclinical work for its Lassa fever vaccine program funding continued development and evaluation through non-human primate studies and, production of vaccine material for potential human trials. With such progress, this may lead to further inroads into the overall government biodefense support network, further evaluating such GeoVax vaccines and capabilities.
GeoVax's efforts in infectious disease have not been in vain. The data and results thus far in HIV and other indications is clear validation of the company's technology and bodes well for what is a repositioning of the company into IO. The company's MVA-VLP platform offers differentiated characteristics over competitive MVA and vaccinia platforms, with clear advantages in dosing, immunogenicity, and stability. GeoVax's HIV and other vaccine programs are still active and positioned for both government and private funding, but GeoVax has recently pivoted to a strategic focus on IO, and there is a reason for excitement based on previous platform validation and encouraging early testing results.

With a full commitment to IO, GeoVax has established impressive collaborations with industry and recognized research partners, building on core strengths in the field of therapeutic and preventive vaccines. The initial focus is on leveraging the MVA platform to deliver tumor-associated antigens (TAAs). TAA are proteins, glycoproteins, glycolipids, or carbohydrates expressed on the surface of tumor cells that may be used by the immune system to identify a malignant cell from a healthy, normal cell. It is well known that many cancers have ways to turn off or hide from the body's ability to find and identify important TAAs. Herein is the challenge that GeoVax is addressing to overcome.
One highly recognized and important TAA to address is Mucin 1 (MUC1). MUC1 is an oncogenic transmembrane glycoprotein in the mucin family found to be overexpressed in a wide variety of hematologic malignancies and solid tumors. For example, it is overexpressed in more than 90% of breast cancers (Singh & Bandyopadhyay, 2007) with a clear differentiation between normal and malignant cells (Yang E et al., 2007). Work out of Dana-Farber Cancer Institute / Harvard Medical School shows that blocking MUC1 induces death in breast cancer cells in vitro and in xenograft models (Kufe DW et al., 2013). Implications of MUC1 aberrant expression have also been linked to lung cancers (Bouillez A et al., 2016) and multiple myeloma (Tagde A et al., 2016).
In the last two decades, MUC1 has been used as a TAA in more than 2,000 patients in clinical trials. Although most patients had advanced disease, some encouraging results were observed in less immunosuppressed patients (Kimura & Finn, 2013). The presence of antibodies to altered MUC1 at diagnosis is associated with clinical benefits (Cramer DW et al., 2005). GeoVax's strategy is to combine its MUC1 vaccine with checkpoint inhibitors and standard of care chemo- or radiation therapy. This triple-combination approach has the potential to unmask the MUC1 target and allow the body's own immune system to find and destroy cancerous cells with the help of broad-spectrum systemic care. Stated simply, GeoVax is pursuing a unique, patented strategy to stimulate the immune system, block further progress of the tumor and to kill the tumor.
Initial results with MVA-VLP-MUC1 candidates have been highly encouraging. The company has recently made available results from two preclinical programs showing MVA-VLP-MUC1 in combination with anti-PD-1 resulted in a 57% reduction in tumor growth compared to untreated controls. In tumor-challenge studies, vaccination with MVA-VLP-MUC1 resulted in substantial protection vs. untreated controls.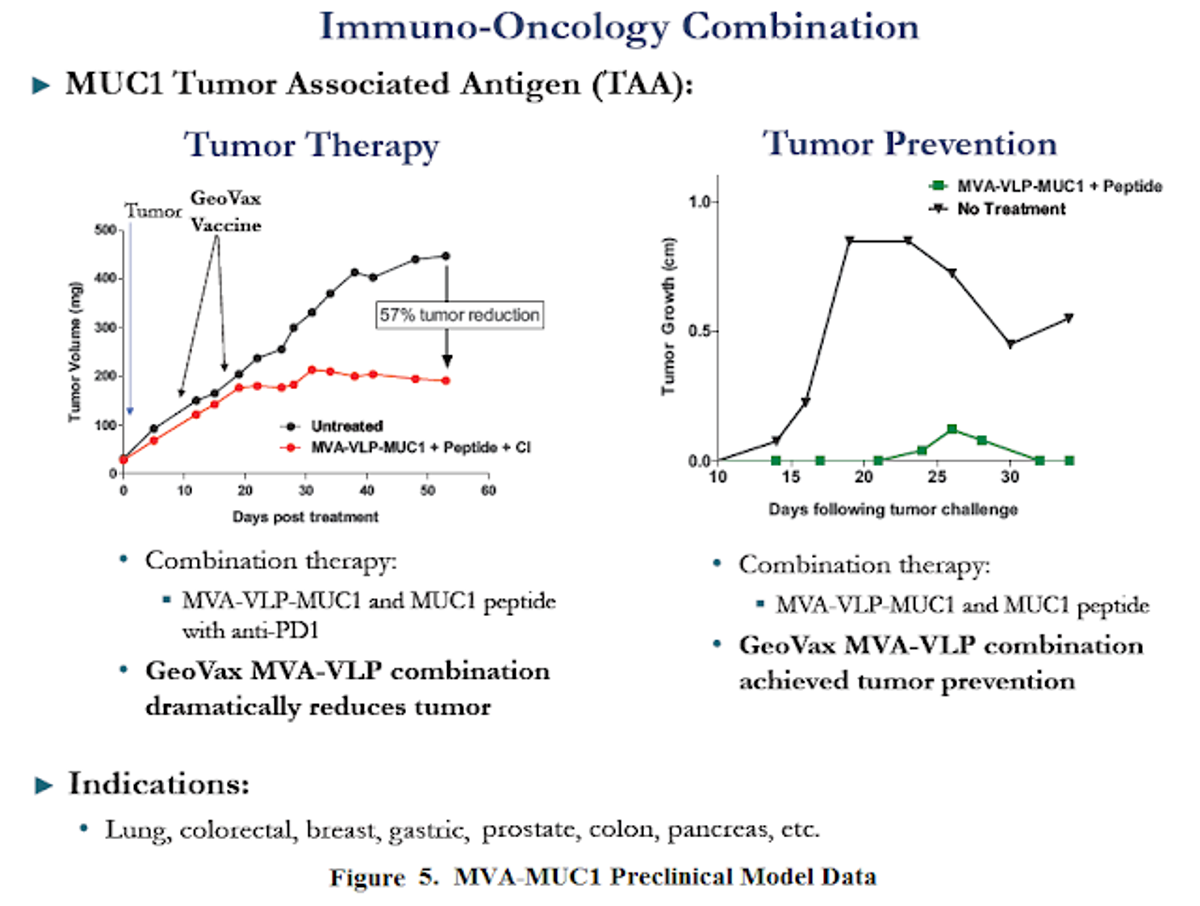 GeoVax is at a pivotal period in the company's history. Although the therapeutic and preventive infectious disease vaccines have yielded impressive results, financial and logistical challenges limit the potential for advancement into clinical development. The company continues to seek collaborations with larger organizations or government and non-profit agencies for the next steps with its HIV and other infectious disease vaccine candidates.
Meanwhile, platform validation in these infectious diseases provides an interesting translational medicine approach in IO. Utilizing the experience with VLPs, GeoVax is leveraging its MVA expertise to develop specific TAA vaccine candidates that can be used with both checkpoint inhibition and chemotherapy. IO is a far more economically viable and feasible focus for GeoVax and the company has already formed initial collaborations for research and discovery. Advancement of IO candidates towards human clinical trials could move rapidly with minimal external funding and present the opportunity for clinical and commercial partnerships capable of quickly achieving a significant financial milestone and progress forward.
Forward-Looking Statements
Certain statements in this document are "forward-looking statements" within the meaning of the Private Securities Litigation Reform Act. These statements are based on management's current expectations and are subject to uncertainty and changes in circumstances. Actual results may differ materially from those included in these statements due to a variety of factors, including whether: GeoVax can develop and manufacture its vaccines with the desired characteristics in a timely manner, GeoVax's vaccines will be safe for human use, GeoVax's vaccines will effectively prevent targeted infections in humans, GeoVax's vaccines will receive regulatory approvals necessary to be licensed and marketed, GeoVax raises required capital to complete vaccine development, there is development of competitive products that may be more effective or easier to use than GeoVax's products, GeoVax will be able to enter into favorable manufacturing and distribution agreements, and other factors, over which GeoVax has no control. GeoVax assumes no obligation to update these forward-looking statements and does not intend to do so. More information about these factors is contained in GeoVax's filings with the Securities and Exchange Commission including those set forth at "Risk Factors" in GeoVax's Form 10-K.